VoiceTouch is your very own 24 hour 7 days a week recorded message system built right into your contact database. Customers will call your dedicated VoiceTouch number to get educated about your services or to learn about your offer.
Text-to-Join is your very own text marketing system built right into your Dynamix Pro. Text-to-Join is the fastest and easiest way to build and grow your Contact List. What you're about to see is going to seem like magic, but this is the real deal. Every step has been completely automated, this is truly a set it and forget it system.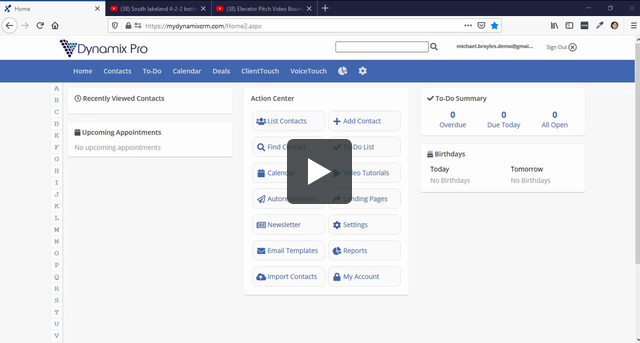 In this module we will walk you through how to pick your Text-to-Join phone number and give you examples of things you can do with the VoiceTouch & Text-to-Join marketing system.
45 min.
CLICK HERE VoiceTouch Overview – Your own 24/7 Free Recorded Message System
CLICK HERE VoiceTouch – Getting Started
CLICK HERE 2-way texting.  Text back and forth with your contacts from Dynamix Pro.
CLICK HERE Email Autoresponders – Have the Dynamix Pro automatically send out emails.
CLICK HERE Action Sets – How to perform a group of actions at one time.